Netiket is a simple and cost-effective collaboration suite for small and medium-size organisations, with a focus on sustainability, open standards, and control over data.
Based 100% on free / open source software, it is hosted in the European Union and offered as a commercial service by Argeo GmbH in order to optimise the deployment and usage of the software it has been developing for more than 15 years.
The service is already in production for a restricted number of beta customers, and it will be generally available during 2023. Until then, more details about the various products on offer will be added here over the coming months. You can follow us on Twitter if you want to be notified when new content is added.
Agroforestry showcase
We presented during the Bits & Bäume 2022 conference in Berlin one of our beta systems, which has been in production since late 2020 and has now scaled across six Western African countries. This system's focus is agroforestry (the improvement of agricultural productivity via the planting of fertilising trees within monocultures) for small-scale farmers, as well as privacy-aware reporting to multiple donors. It is a cost-efficient customisation of Netiket software designed for APAF, the main French agroforestry NGO, in constant dialogue with their local teams in Africa.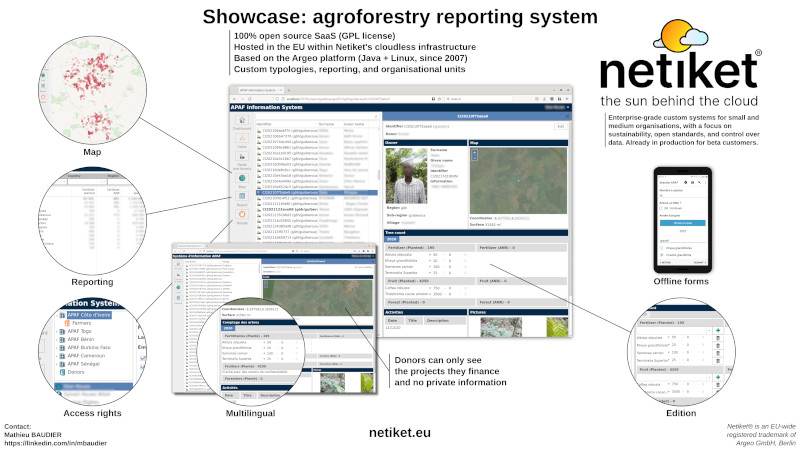 (click to enlarge, or download as PDF)
netiket® is a registered trademark of Argeo GmbH
at the European Union Intellectual Property Office (EUIPO)